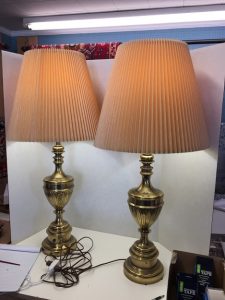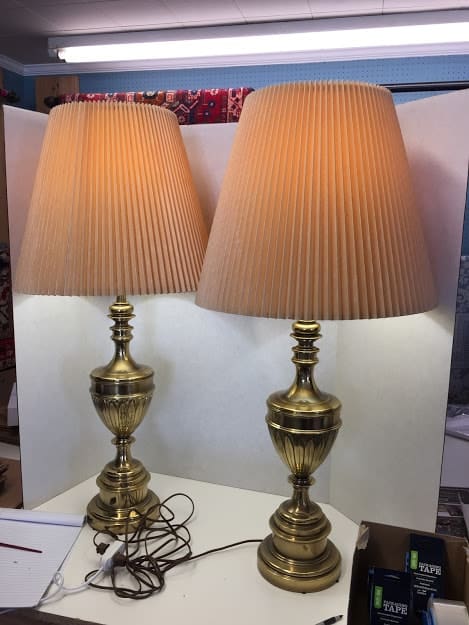 What is a Pair of Brass Lamps by Stiffel Worth? In our physical store in August of 2019 we sold the pair of lamps pictured about $200. At auction the price can range wildly from $5-$200 per lamp, depending on the condition, working, pitting and the shade being present or not.

Pair of Brass Lamps by Stiffel
Pair of brass lamps by Stiffel with great accordion style shades. These high quality, large brass table lamps were made by Stiffel in circa 1970. They feature a classic trophy-like base and nice tall stature.
The lamps feature original wiring and also original pleated shades. The button for the lamp is near the base. The lamp bases have good vintage condition with minor areas of wear or age. Both work well.
One shade does show a break, visible on the inside of the shade. Please see photos. Also, we replaced the original felt circles normally found on the bottom of lamps with small stick-on felt feet.
We are asking $199 for the pair of lamps, plus $39 for shipping and packaging. You may also pick up the lamps at our storefront for free.
Item: Vintage Pair of Stiffel Lamps with Shades.
Age & Condition: Circa 1970. Good Vintage Condition with minor signs of wear. One pleated shade has a break on the inside. Please see photos.
Dimensions: Lamp Base is 8″ Diameter x 35″ tall.
Shade diameter at the bottom is 16.5″.