What is the History of this Antique Secretary Desk?
This Antique Secretary Desk was made in circa 1910-1920. This Antique Secretary Desk has many stylistic qualities that help us situate it in this time period.

Antique Side by Side Secretary History
Antique Side by Side Secretaries often fall in the late 19th century to early 20th century. This antique side by side secretary design is historically situated between the end of the Victorian period and the beginning of Art Nouveau design.
The antique drop front desk, or often called a side by side secretary, is a late 19th Century Victorian period furniture invention. The desk combines a bookcase or curio with a small writing desk, and has multifunction of storage and writing surface. Thus the name, "Side by Side Secretary."
Indeed these types of antique secretary desks are often seen in oak. This particular antique model is elevated with solid mahogany, a prime and rare wood valued for its strength and beauty.
Art Nouveau Style Desk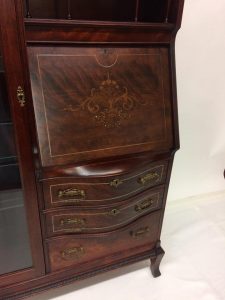 This antique drop front desk is rare too, because of its intricate inlay work of satinwood, rosewood and mother of pearl within the desk surface. Feathered glass on the cabinet door, fitted with a fine mahogany overlay, also adds drama and interest to the piece of antique furniture.
Feminine swirls of inlay and mother of pearl decorate the drop down desk surface. Additionally, carvings on the bookcase side echo these feminine details.
Victorian Furniture often has this level of detail. However, the sinuous lines of this inlay decoration really echo Art Nouveau style as well.
What is the Value of this Antique Side by Side Secretary?
We sold this antique side by side secretary in late 2016 or 2017. Our happy client fell in love with the detail and romance of this antique desk.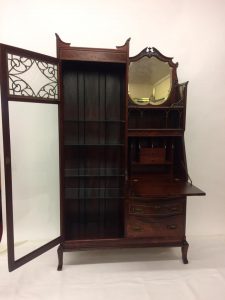 The antique side by side desk sold for between $500-$800 at that time. Similar antique desks may be worth more or less, depending on the condition, rarity and overall intricacy.




Light flaws to the inlaid surface may have hurt the overall antique value of this desk. In pristine condition, we may expect to see prices of $1000-$1500 for this particular side by side secretary.
Have you purchased a similar side by side secretary? Let us know in the comments below!