Kling Furniture Company
a brief history of the Kling Furniture Company, an iconic and now vintage furniture brand.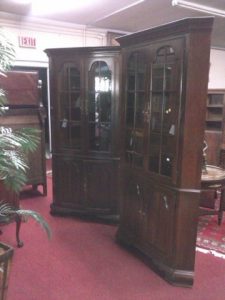 Kling Furniture company was created as a collection of furniture companies in New York State. John Alexander Kling, an immigrant from Sweden, purchased several struggling furniture companies, starting with the Chautauqua Spring Bed & Lounge Company in Mayville, New York in 1911.

He bought three other plants and eventually his enterprise operated under the name "Kling Factories." Each plant focused on one style of bedroom furniture and within 17 years, Kling became one of the largest volume producers of furniture in the US.
The depression years of the late 1920s and 30s were tough on Kling, but John's sons were able to manage and pull through as many other furniture companies caved. Aiming to continue to provide heavy, solid wood furniture of great quality remained in the company's mission.
Quality Furniture Maker
The 1940s through 1960s became the peak production time for Kling and this is generally the period of greatest quality. More advertising opportunities in magazines such as "Better Homes and Garden" and "House Beautiful" helped solidify the company's reputation as a quality furniture maker.
Kling
Kling was eventually purchased by Ethan Allen in 1962. Sometimes we see a piece which is marked "Kling Colonial" which signifies the joining of Kling with Ethan Allen. Ethan Allen dropped the name later.
We love Kling furniture here at Bohemian's. To us, Kling furniture has extreme beauty, durability and history. Frequently we are lucky enough to find Kling Mahogany Furniture. Using genuine mahogany on all exposed parts AND all secondary woods (drawer bottoms and sides, inside cabinets), Kling bedroom furniture in mahogany is especially desirable and long lasting. Refinishing this vintage furniture brings back the beauty of distressed Kling pieces and we seem to never tire of it.
Kling furniture
The style of Kling furniture can vary. Often we see echoes of Chippendale Styles: shells, fluted columns and bracket feet are common among vintage Kling styles. Solid brass hardware can either be left with patina or shined to original glory. (The years of WWII left Kling, like every furniture company, not being able to use solid brass and instead using a faux proximity. If you find a piece with plated or aluminum hardware, you can date it to the war years.) We like to clean the hardware to get that sparkle and contrast on a vintage piece.
Indeed, the beauty of Kling and it's prominence as a true American Furniture Company has not been forgotten. Certainly, we see Ethan Allen looking to its roots for furniture design with Kling. Often, the two brands are indistinguishable. Simple, classic design and high quality materials make Kling one of our go-to brands for vintage furniture. We hope that you too will enjoy this superb furniture maker.
Kling Furniture Stamp
Kling Furniture Stamp is a mark of quality furniture that originated in New York in the early 20th century. The company is known for producing solid wood furniture that is both durable and stylish. The Kling Furniture Stamp is a guarantee that the piece was crafted with care and attention to detail. Today, Kling Furniture is highly sought after by collectors and homeowners alike, with many pieces retaining their value for decades. If you're looking for furniture that will stand the test of time, look for the Kling Furniture Stamp.
The following is a Kling Colonial Furniture Stamp, this stamp was used after Ethan Allen furniture bought the company at around 1970. The Kling Colonial stamp was used for about 2 to 3 years.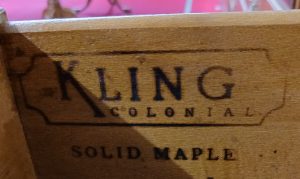 The following is the older tin badge used from the 1940's thru the 1950's. Kling Furniture Stamp.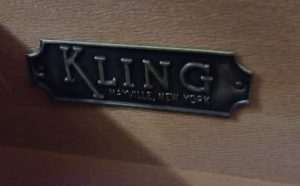 Thank you for inviting us into your vintage home!
Rachel La Bohème
Bohemians Fine Furniture Store