Randi G. writes:
Hello,
I inherited this set from my grandmother. It's all wood but I can't tell what kind. Six chairs, table (with leaf) and a large Buffett and a small one as well. Do you guys provide appraisals? Also, do you guys buy furniture?




Randi G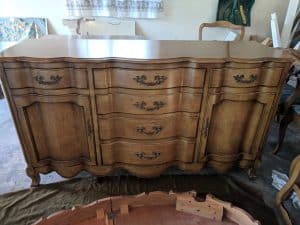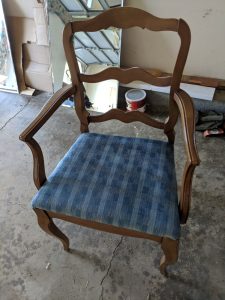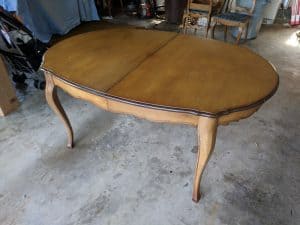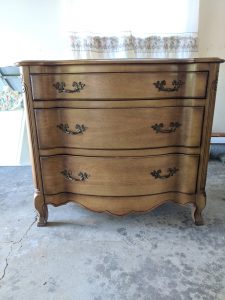 1 Answers
Dear Randi,
What you have here is a French Provincial Furniture Dining room set (minus a china cabinet) made in circa 1950.
During the 1950's and 1960's, French Provincial furniture had a huge wave of popularity! Everything "French" was extremely desirable. Alongside the Mid Century Modern Danish designers that were becoming \"hot\" with their clean lines and austere styles, French Provincial style ran alongside as an alternative for American consumers. The sinuous lines and light finish woods gave Americans a beautiful, feminine and cozy look for their homes. Designers adapted designs ranging from Louis XIV to Louis XVII France and mass produced elements that were appealing to the middle and upper classes. We see the "Cabriole leg" (the curvy dining table and chairs leg) and the serpentine front buffet and dresser. Take note of the quality hardware on your set. These were the days of quality metal hardware.
Because the labels are no longer in tact in the pieces, it makes it a bit more difficult to appraise.
Initially, my first guesses for your set were Kindel Furniture Company, Drexel Furniture, Widdicomb Furniture Company or Karges Furniture Company but after a bit of sleuthing, I think my first impressions were a bit off. These higher end companies often had more subtle details on the edges of the furniture and more exaggerated "ball and hoof" feet. Your set here has a much simpler design on the legs of the chairs and table, and very simple carvings on the edges of the set. Subtle differences that make all the difference in value.
Likely your set is solid cherry (just very faded, probably in a sunny dining room). But I believe your set was probably made by one of the mass market companies. Nothing to sneeze at. At this time, Bassett from Virginia and Thomasville from North Carolina were making excellent solid wood furniture. And your buffet and dresser I assume still have wood backs and wood dust covers (in between the drawers). I believe your set was likely made by one of these companies. Certainly, this furniture was still expensive and a good investment for your grandmother! And look at how beautifully this set has lasted for so many years.
With the fading, slight scuffs and dings I see from your photos, your set could probably reach $200-$400 on the auction block in my area. That would be for the table, six chairs and buffet. The dresser would likely reach $100-$150. This of course, is just an estimate from the photos. Any other damage, like drawers that don't work properly, or any smells (mothballs are a killer to furniture) could hurt those estimates. I appreciate your offer to sell it, but at this time we would not be interested in the set. Best of luck with finding it a great home.
Oh, one more thing. Many people in the Frederick, MD to Northern Virginia area are reviving this sort of furniture with chalk paint. You may find that a reseller who paints might be interested in your set.
Best of luck!
Take care,
Rachel