Can you tell me about this European Carved Cabinet? Age? History? Value?
Samantha writes:
"Hello!




This piece was imported from Europe by my family. The antique cabinet was handed down to me and to be quite honest I don't know a lot about it's history. I would love to get your insight on this piece and have a better understanding of its origin. I know the piece is hand carved and made of Oak. There's some difference of opinion as to whether it is 1800s or 1900s. I know some of the brackets were added for additional support due to the size of the piece. The dimensions are 118"W 77"H 21"D.
Any help you could provide would be greatly appreciated!!"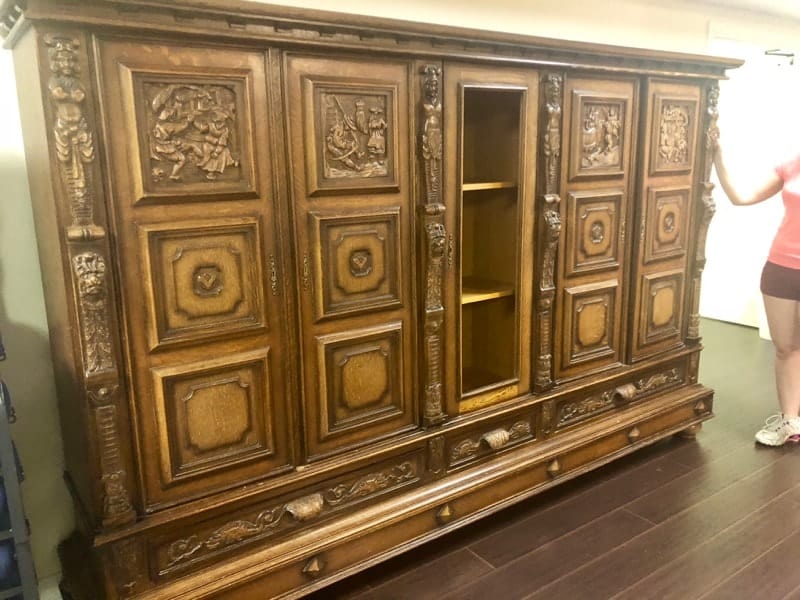 Here are some close ups of the carvings: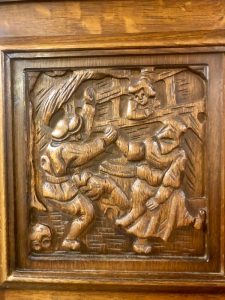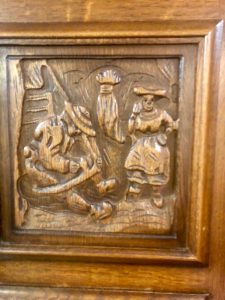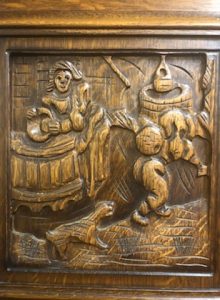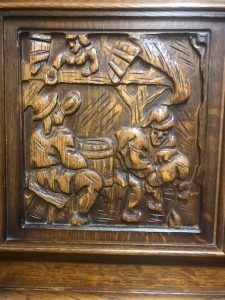 And some more of the carvings along the edges and top: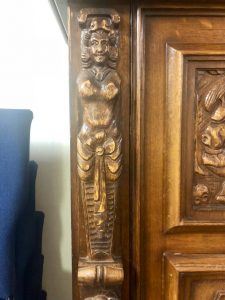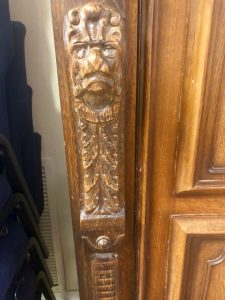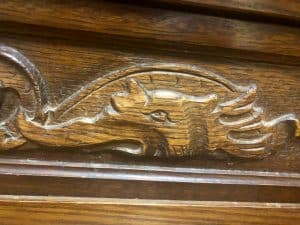 1 Answers
Rachel writes:
"Dear Samantha,
I can see why this huge carved oak piece has created some confusion in the family! We see themes of mythical beasts, fire breathing dragons, carved armless figures, and playful scenes of what appears to be figures dancing across this massive nearly ten foot piece of furniture.
We are always happy to see pieces being passed down within a family, and this piece you inherited definitely makes a statement in the home!
Here are my two cents about your piece:
It is what I would call a "Monumental Renaissance Revival Buffet Cabinet" from circa 1890 – 1900. I agree that it is solid oak and from Europe. My guess is Northern France or England. We have had similar style French cabinets, such as this oak Pub Cabinet. (Link to Pub Cabinet: https://www.ebohemians.com/p/antique-cabinet-french-cabinet/)
I would also most likely define your piece as a "Breton Cabinet." Breton means your piece likely came from the Brittany Region of France of the late 19th and early 20th century. Nearly all Breton pieces are made of oak and chestnut and many are carved with scenes shown on the doors of your piece.
About the Period
The late 19th Century saw a cultural nostalgia for the romance, beauty and mystique of the Renaissance Period of centuries before.
Furniture makers in both Europe and the US sought to add whimsy and glamour to stale styles that were begging for a reboot. Often, Renaissance Revival furniture takes bits and pieces from different stylistic trends of the original Renaissance period. You may see Gothic, Rococo and Italian style elements on Renaissance Revival pieces.
So, the 19th century revival of Renaissance styles displays tons of variety. Typically, Renaissance Revival furniture will be heavily carved. Like in the case of your cabinet, both high relief and low relief carvings often make an appearance. Sometimes, vague geometric forms are combined with more narrative ones. The "crests" carved on your doors likely are no real family crest, but more of a generic resemblance of what the furniture maker imagined to be common in the 1500's and 1600's.
The themes carved in your oak cabinet are typical of the Renaissance Revival period. Often, mythical themes were carved in antique cabinets. On your cabinet, the fire breathing dragons and griffin faces remind me strongly of this French Hunt Cabinet. (Link to French Hunt Cabinet: https://www.ebohemians.com/p/antique-oak-french-hunt-cabinet/) Hunt cabinets often used carvings of mythical beasts to bring the intensity and brutality of hunting to life! "La chasse" as it is called in France, was an important pastime of the nobility. So obviously, themes of the hunt in furniture and architecture help the owners display their wealth and social status.
We also see four mermaid-like creatures flanking the piece. Again, these creatures are likely just pulled from the carver's whimsy, without having too much narrative significance.
The four panels across the front piece show us a more discernible storyline, and tell me that it most likely is a Breton cabinet.
Although somewhat primitive in the carvings, we can make out a husband and wife figure repeated in all four scenes. In the first frieze, they are dancing. On the second door, we clearly see the wife, hand on hip, watching her husband as he seems to be whittling a piece of wood. The third panel appears to show the man carrying a sack of some sort, followed by a small dog. The final panel shows the man drinking near a barrel and the wife back at home, peering out the window.
The themes of work and play are humorously explored on this carved cabinet. Husband and wife relationships were often the subject of large pieces of furniture from Brittany. Just like the sitcoms of today, husband and wife banter provided endless (and universal) enjoyment. As with this pub cabinet, the theme of adult beverages seems to figure as an important theme. 🙂 Everyday scenes of life were common on Breton pieces, and the traditional clogs and dress shown on your cabinet are common elements of traditional Breton culture.
Because of this somewhat campy humour, we can imagine that this cabinet worked as a dining room or liquor cabinet. It may have even had a smaller buffet or bar type of piece as a match at one point.
The Value of the Antique Breton Cabinet
If you were to sell your piece at auction in my area, I would say that a good estimate would be in the range of $1000 and $3000. If the carvings were more subtle (the faces and scenes are a bit ghoulish), and if there was less wear to the surface, you might see a higher price.
I am giving you a wide range because large European cabinets can go one of two ways. Dealers may fight for an impressive hand carved antique piece and may drive the price up. Your cabinet has a lot going for it! It has great character, looks solid and could be very useful as a bar, wardrobe or cabinet. The character storyline is also great and many buyers will probably love the whimsy of it!
Alternatively, antique dealers may feel that it requires a lot of money to tie up into one very specific style statement piece. It also would take up a lot of square footage in a storefront or warehouse. Right now, the antique furniture market is "soft" overall.
Since the last housing crash, many types of antique furniture saw a great loss in value. Specialty pieces that belong in the "luxury" (rather than necessity) category, could have a tendency to sit for a while. (Your piece may have brought closer to the $3000- $8000 price range back before the crash.)
Despite this, I love antique European cabinets and continue to buy ones that speak to me! You simply would pay so much to have a solid oak, hand carved piece made like this today. So I definitely see the value in antiques of this nature.
Anyway, your Breton cabinet is really lovely and I hope that you decide to keep it and possibly pass it down to your family one day. It really is a very fun example of Renaissance Revival furniture, specifically Breton Furniture!
Thank you Samantha for writing! I hope this helps!