Buddy L. writes:
"Hello Rachel,
My wife and I bought this dining room set a few years ago. It has leaves at both ends that pull out and also retract back under the table when not in use.
We are thinking of selling it as we hardly use our dining room. We paid around $1,000 for it.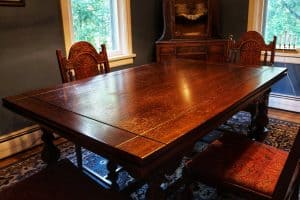 We bought it from a lady in New York City who had it in a restored home.




If I remember right she said it was a Berkey and Gay piece. Does it look like that you? We're trying to figure out what time frame this piece would be and who truly possibly made it. Any help or info would be appreciated.
Thanks so much!"
1 Answers
Rachel Says:
"Dear Buddy,
Your dining room set does remind me strongly of Berkley and Gay. Usually you will find a metal tag with their name on the underside of the table and sometimes on the underside of the chairs. But if no tag is present it is hard to say definitively who made it. Many companies during this period made similar sets of varying quality. Berkey and Gay (from Grand Rapids, Michigan) was one of the more recognized and celebrated companies of the period.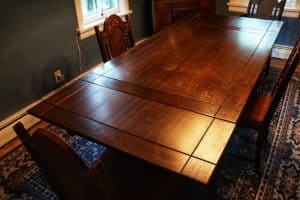 Your set appears to be oak and oak veneers and is done in what is commonly called "Jacobean style." This style was popular in 1915 to about 1930 (Depression era). Basically, it is a revival and adaptation of French Renaissance style. The carved chairs and trestle style table have a heavy sort of "castle" look that was very popular, but usually the sets were made in small scale (to fit depression era homes.) Sets like yours with trestle tables and six chairs were common.
As far as your price, I think you may unfortunately not receive your full investment back at this time.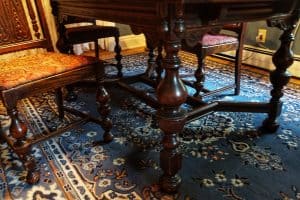 The market is a bit soft on depression era furniture, especially if there are no markings or tags from the maker on it. (Many people in different parts of the country are painting this style of furniture, and if you do sell it, please prepare emotionally for this sad fact.)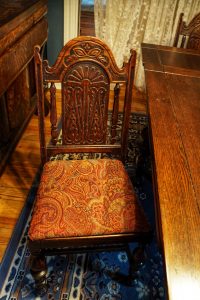 Also, in my experience, the tables are always great, but the chairs tend to get very loose and weak in the joints over time. Also, antique chairs often have petrified (very hard) foam and worn fabric that can get expensive to replace. You may do better splitting up the table and chairs, believe it or not, if you wish to sell it. But this all depends on condition.
At auctions in my area, a good price on a similar set might be around $400. It it does have the "Berkey and Gay" Furniture tags, dealers may pay more for the set, close to $600-$700. But, as we all know, a well attended and well advertised sale is crucial for reaching a great auction result!
Hope this helps! Best of luck with your antique dining room set.
Take care,
Rachel