Solid Walnut Victorian Corner Cupboard is available at Bohemians Antique Store. It is priced at $2499.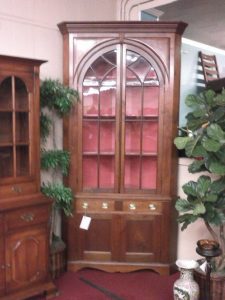 SORRY THIS ITEM IS NO LONGER AVAILABLE
Circa 1860-1880
Solid Walnut, two piece fitted cupboard
Arched Doors
Original Wavy Hand Blown Glass
Rose Colored Interior
Scalloped Interior Shelves with plate grooves
Dovetailed Drawers
Fleur de lis and scallop carvings on top moulding

This beautiful two-piece walnut corner cupboard is subdued for its time period. When most people think of Victorian furniture, ornate filigree, rococo carvings and tufted furniture spring to mind. This piece, with its elongated form and impressive statue, is overwhelmingly streamlined. Simple arched doors and strong symmetry are more reminiscent of palladian architecture than of the frilly interiors of the Victorian era.

Yet this corner cabinet speaks very strongly of the Victorian taste for strong statuesque pieces in the home. This piece has for instance, a much longer top half than bottom. This has the effect of making the piece appear taller than it actually is. The strong verticality and arched windows in the piece signify Victorians penchant for Gothic Architecture, a trend that grew first in England and then in the United States.

A nostalgia for Gothic times and Gothic architecture became popular in Europe, and in the 1840s to 1860s stone homes were built to mimic the medieval grand castles of England's aristocratic past. In America, wooden cottages and villas became popular as lumber was more readily available and cheap. These homes were heavily decorated with wood gingerbread trim and scroll ornaments to achieve the "gothic" taste of the time.

Inside the cabinet we see another hint of the curvaceous gothic touch. Curved scalloped shelves add a touch of decoration, and rose colored paint (most likely original) adds a splash of color to this otherwise simple piece.