Antique Desks – Secretary Desks
Antique Secretary Desks are among the most popular pieces of fine furnishings in today's world. People are always enthralled with the different moving parts of antique desks, secret compartments, and sheer variety of secretary desk styles that exist.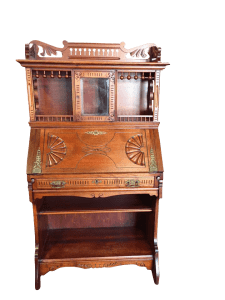 At Bohemian's, we have been lucky to deliver some outstanding secretary desks (antique desks) to many different stylish homes.
As far as antique desks go, secretary desks continue to delight and beautify historic and traditional homes.
There are a multitude of styles and types of secretary desks to consider. With all of the options, lets review the basic forms of secretary desks.
Slant Front Desk
A close relative to the secretary desk, the slant front desk offers a great option. Typically smaller than a secretary desk, a slant front desk has the bottom half of a secretary desk as a form. In other words, it does not have a bookcase top. The slant front desk typically has the functional drop front writing surface. Of course, this writing surface could be supported by wooden arms that extend on either side. Alternatively, the slant front desk could have an interior mechanism and hinge support.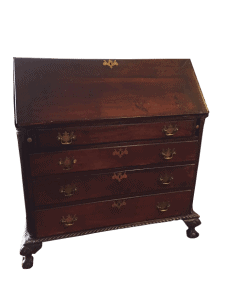 Early colonial period slant front desks often have a simple set of three to four drawers underneath this writing surface. Additionally, we often see hand dovetailed cases and drawers in early slant front desks. Bracket feet typically support the desk.
However, throughout history, slant front desks have also adopted fancier shapes and details. Indeed, we often see serpentine front drawers on 18th and 19th century slant front desks. Inlaid woods can decorated the surfaces of slant fronts. Also, we often see Chippendale style slant front desks with ball and claw feet. These types of antique slant front desks can provide a beautiful focal point for a room. Colonial homes look stunning with antique slant front desks! Decorated with candle sticks and antique books, these desks provide a cozy nook for reading and writing in any home.
Governor Winthrop Desk
Often, in a discussion about antique secretary desks, one will hear the term "Governor Winthrop Desk." This term designates any secretary desk and often interchangeably describes different secretary desks. It is an American term that honors John Winthrop. John Winthrop served as a lawyer of the Massachusetts Bay Colony, which was the second largest Colonial settlement after Plymouth. His connection to the desks has not really been totally revealed to me. However, I believe that people simply adopted the term to make a Colonial connection to antique secretary desks. Regardless, antique dealers use the term "Governor Winthrop Desk" to describe Colonial secretary desks with bookcase tops.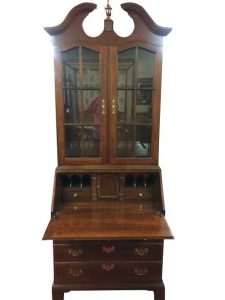 Often, I have seen, Governor Winthrop Desks have serpentine front drawers, ball and claw feet, broken arch tops with finials and glazed glass doors. These beautiful desk forms look stunning in hallways and living rooms. Their often tall statue adds visual height to a room. Of course, Governor Winthrop desks can also provide a ton of space for decoration! Antique china, vases, and antique books look beautiful inside antique Governor Winthrop Desks. Greenery and wreaths also look beautiful inside or on top of Governor Winthrop Desks.
Side by Side Desk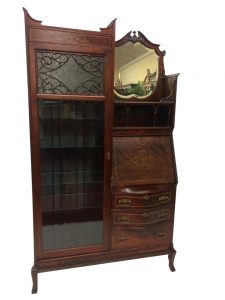 A side by side desk is another iteration of the Secretary desk form. A side by side desk has a drop front writing surface that is typically smaller in width. The bookcase or cabinet section of the desk does not sit on top of the writing surface. Rather, it sits to the right or left of the desk. Side by Side Desks became popular in the 19th century. Many Victorian models of side by side desks also incorporated a mirror or fancy carving on these desks. We have sold several side by side desks in oak and mahogany.
Additionally, side by side desks often have bowed glass in the cabinet side. This nifty invention adds quite a bit of useful decorating space to the antique desk. Many people decorate this small curio with collectables and teapots, or crystal stemware! They take up a little more floor space, but definitely provide a beautiful focal point to a room.
Secretary Desks – Victorian Secretary Desks
This brings us to a discussion on Victorian Secretary desks. We have bought and sold many Victorian secretary desks. As literacy and letter writing reached saturation, 19th Century desks became a token piece of furniture and a status symbol. Thus, this era of history produced many different styles and forms of the Victorian Secretary Desk.
Cylinder Roll Desks
Among these styles, popular cylinder roll desks appeared during the Victorian Period. Cylinder roll desks do not have the flat drop front style writing surface that was so popular for centuries. Instead, craftsmen modified the form and brought a more complicated desk feature. The curved desk cover of a cylinder roll desk tucks inside of the piece. It then covers the desk like a dome. Obviously, this feature took considerably more time and skill to produce. Typically, these desks also include a slide out writing surface as well.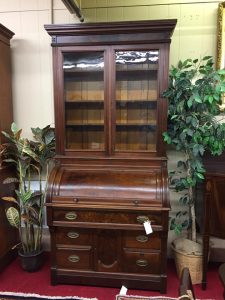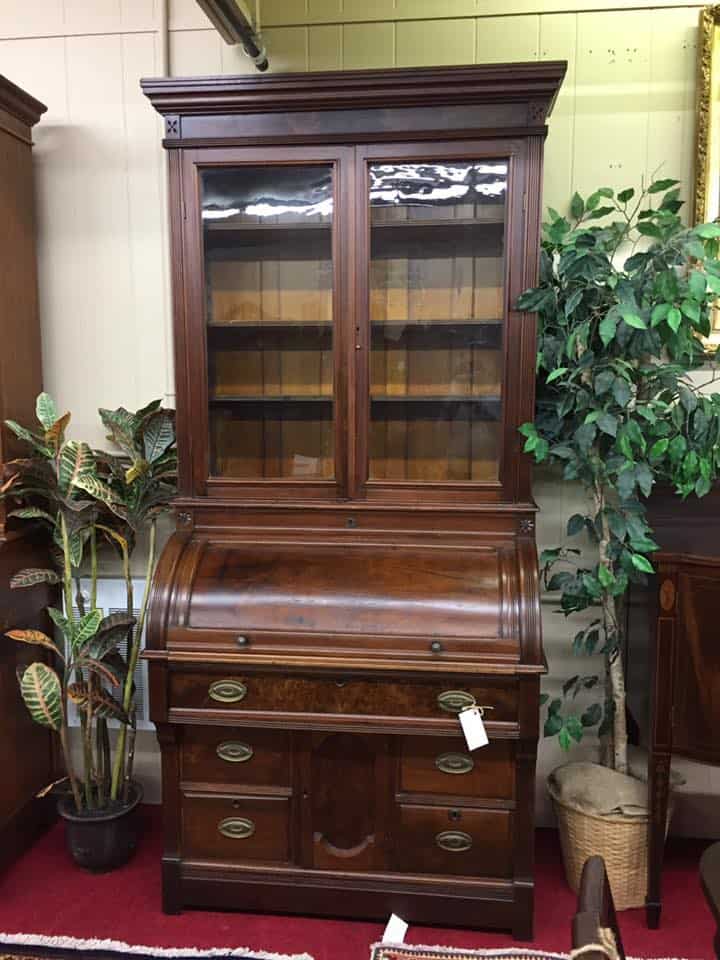 A cylinder roll desk certainly presented Victorians with a lush statement piece for their homes. They offered high style and very desirable features for wealthy Victorian people. Today, cylinder roll desks are still very sought after. Many people tuck a modern keyboard into the cylinder roll and a monitor into the bookcase top. This certainly adds some antique style to any home!
Butler's Desk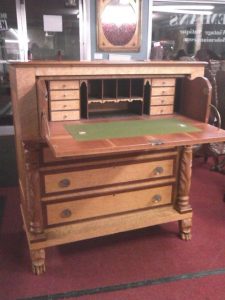 The Butler's Desk also saw its rise during the 19th century. Wealthy households and estates often employed educated Butlers to handle their bills, correspondence and accounting. Thus, they saw a need for a new design of a piece of furniture. Yet, interestingly, butler's desks are standing desks. In other words, the writing surface often reaches three to four feet in height. Typically, Empire style Butler's desks looked like bureaus or dressers. The top drawer flipped open at a hinge. Inside, the compartments and drawers helped the Butler keep things tidy and organized.
Even though Butler's Desks were not made for the masters of the household, but rather for the hired help, they often have beautiful and elegant forms. Indeed, extremely wealthy people seemed to spare no expense on these antique desks! We have sold the most extravagant examples of butlers desks. Indeed, ones with beautiful figured woods, carvings and glass knobs have passed through our shop doors. Of course, in traditional or historic homes, butler's desks offer a glimpse into the incredible past. They often make their way to foyers and living rooms, as they are too pretty to hide away in private rooms.
Secretaire Abattant
The "secretaire abattant," as the name suggests, is a French form of the antique secretary desk. This type of desk has a rectangular form. Indeed, it looks more like a chest of drawers than a desk. Typically, the secretaire abattant has tall fluted legs. The fall front desk section usually opens by key. Inside, a pair of hinges allows the writing surface to fall at an angel. Typically, we see a leather or felt writing surface. Additionally, cubbies and small drawers line the back of the case.

Secretaire abattants are very elegant secretary desks. They were popular in France in the early 1900's until the 1930's. We see very pretty French desks with satinwood and rosewood designs. Often, people today use secretaire abattants in living rooms. They look beautiful topped with a vase and flowers, or even vintage decanters and barware!
Vintage Secretary Desks
Another fabulous option to consider is reproduction vintage secretary desks. Vintage companies in the 20th century have reproduced antique forms in vintage secretary desks. Often, fine furniture companies like Baker Furniture, Henredon Furniture, Kittinger Furniture, Ethan Allen Furniture and others took forms of antique desks and recreated them. Thus, vintage secretary desks can offer an incredible option for the home. High quality woods, glazed glass and beautiful details make these reproduction desks very attractive.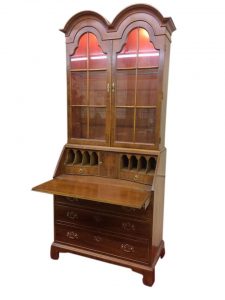 Maddox Furniture company was prolific in creating secretary desks in the 1930s and 1940s. Thus, Maddox vintage secretary desks are often easily found on the secondary market. Often, these vintage secretary desks featured mahogany and cherry woods.
Antique secretary desks come in many different forms and styles. They are a classic decorating piece, because they add drama, height and beautiful detail to a room. They also function very well as writing desks and command centers for the home. People can still benefit from the pigeon holes and cubbies of antique secretary desks. Indeed, antique secretary desks appear timeless and universal in the home design world. Hopefully, this basic discussion gives our clients a framework for understanding the options available in the world of antique secretary desks.
To see all of our current selection of our secretary desks and antique desks, click the link below:
Antique Desks
Thank you for inviting us into your vintage style home! Also see this writing desk.
Rachel La Bohème
Vintage Writing Desk
Spread the love, Save for Later